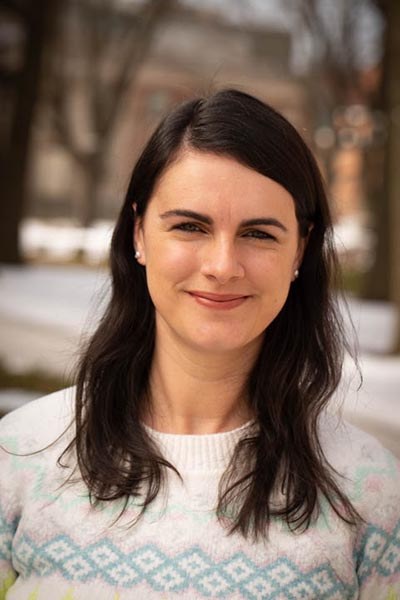 Monica

Kersch-Becker

,

Ph.D.
Assistant Professor of Arthropod Ecology
518 ASI Building
University Park
,
PA
16802
Areas of Expertise
Plant-arthropod interactions
Arthropod ecology
Chemical ecology
Biological control
Education
Ph.D. Ecology and Evolutionary Biology, Cornell University
M.Sc. Ecology, Universidade Estadual de Campinas, Brazil
B. Sc. Biology, Universidade do Vale do Rio dos Sinos, Brazil
Research Summary
My research focuses on basic and applied aspects of multitrophic species interactions in both natural and managed systems. I am passionate about chemical ecology at the forefront of science and my work investigates the underlying mechanisms by which plant chemical and physical traits shape multitrophic species interactions, population dynamics, and community structure of arthropods. My ongoing research can be divided into three broad areas of investigation: (i) plant-mediated trophic interactions, (ii) arthropods facilitate microbial diversity on plants, and (iii) climate change and species interaction. Through research integrating chemical assays, statistical modeling and manipulative laboratory- and field-based experiments, my work investigates the complex context-dependency of direct and indirect multi-species interactions involving plants, microbes, herbivores and predators at both population and community levels.
Current Students
Jacob Herschberger (M.S. – Biology)
Danilo Ferreira Borges dos Santos (Ph.D. – Ecology)
Bijay Subedi (Ph.D. – Entomology)
Publications (last 5 years)
Romero GQ et al. Climatic instability strengthens the importance of leaf shelters for arthropods: a global experiment. Global Change Biology, in press.
Pereira C et al. 2022. Subtle structures that serve as refuges: a dataset of arthropod constructs and their host plants. Ecology, in press. doi: 10.1002/ecy.3639
Recalde FC, Breviglieri CPB, Kersch-Becker MF, and Romero GQ. 2021. Trophic variation in tropical birds and bats is driven by allochthonous resources. Food webs 29: e00209. doi: 10.1016/j.fooweb.2021.e00209
Antiqueira PPA, de Omena PM, Gonçalves-Souza, T, Viera C, Migliorini GH, Kersch-Becker MF, Bernabe TN, Recalde FC, Benavides-Gordillo S and Romero GQ. 2020. Precipitation and predation risk alter the diversity and behavior of pollinators and reduce plant fitness. Oecologia 192:745-753. doi: 10.1007/s00442-020-04612-0
Kersch-Becker MF and Thaler JS. 2019. Constitutive and herbivore-induced plant defenses regulate herbivore population processes. Journal of Animal Ecology 88:1079-1088. doi: 10.1111/1365-2656.12993
Greenspan SE, Lyra ML, Migliorini GH, Kersch-Becker MF, Bletz MC, Lisboa CS, Pontes M, Ribeiro L, Romero GQ, Woodhams DC, Haddad CFB, Toledo LF, Becker CG. 2019. Arthropod-bacteria interactions influence assembly of aquatic host microbiome and pathogen defense. Proceedings of the Royal Society B 286: 2019.0924. doi:10.1098/rspb.2019.0924
Kersch-Becker MF, Grisolia BB, Campos MJO and Romero GQ. 2018. The role of spider hunting mode on the strength of spider-plant mutualisms. Oecologia 188:213-222. doi: 10.1007/s00442-018-4170-y
Kersch-Becker MF, Grisolia BB, Campos MJO and Romero GQ. 2018. Community-wide responses to predation risk: effects of predator hunting mode on herbivores, pollinators and parasitoids. Ecological Entomology 43:846-849. doi:10.1111/een.12660
de Omena PM, Bernabe TN, Kersch-Becker MF, Antiqueira PPA, Benavides-Gordillo S, Recalde FC, Vieira C, Migliorini GH, and Romero GQ. 2018. Bromeliads provide shelter against fire to mutualistic spiders in a fire-prone landscape. Ecological Entomology 43:389-393. doi: 10.1111/een.12497
Kersch-Becker MF, Kessler A and Thaler JS. 2017. Plant defenses drive herbivore population growth by changing predator-prey interactions. Proceedings of the Royal Society B 284: 20171120. doi: 10.1098/rspb.2017.1120
Tjiurutue MC, Sandler HA, Kersch-Becker MF, Theis N and Adler LS. 2017. Gypsy moth herbivory induced volatiles and reduced parasite attachment to cranberry hosts. Oecologia 185: 133-145. doi: 10.1007/s00442-017-3915-3
de Omena, PM, Bernabe TN, Kersch-Becker MF, Recalde FCR, Antiqueira PAP, Viera C, Migliorini GH, Benavides-Gordillo S and Romero GQ. 2017. Plant architectural traits determine residence time by a Neotropical jumping spider. Journal of Ethology 35: 313-316. doi: 10.1007/s10164-017-0520-1
Tjiurutue MC, Sandler HA, Kersch-Becker MF, Theis N and Adler LS. 2016. Cranberry resistance to dodder parasitism: induced chemical defenses and behavior of a parasitic plant. Journal of Chemical Ecology 42:95-106. doi: 10.1007/s10886-016-0671-5