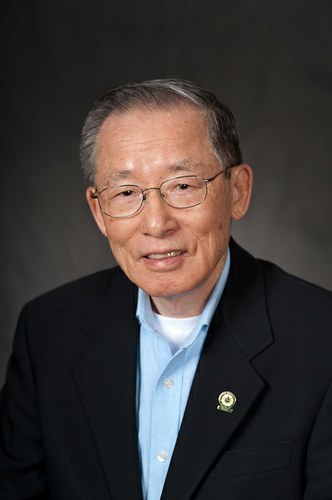 Ke Chung

Kim

,

Ph.D.
Professor Emeritus and Curator Emeritus, Frost Entomological Museum;
Founding Director Emeritus, Center for BioDiversity Research
213 Morningside Circle
State College
,
PA
16803
Education
B.S., Seoul National University, 1956
M.A., University of Montana, 1959
Ph.D., University of Minnesota, 1964
Department Focus Area
Ecological Applications; Biodiversity Science: Taxonomy/Systematics, Ecology, Sustainability Science; Forensic Entomology: Scene Investigation and PMI (Postmortem Interval) Analysis
Research Interests
Biodiversity Science: Exploration, Documentation, Taxonomy/Systematics of Arthropod Biodiversity, Conservation and Protection Policy; Biodiversity Inventory, Assessment and Monitoring. Forensic application of Entomology. Biology and Evolution of Intraspecific Variations. Ecology and Coevolution of Animal Parasites and Host Interactions. Impacts of Anthropogenic Stressor on Biodiversity and Mitigation for Biodiversity Impacts of Climate Change.
Teaching
Biology of Animal Parasites
Freshwater Entomology
Taxonomy/Systematics
Immature Insects
Advanced Arthropod Taxonomy
Forensic Entomology

Research Activities & Interests
Biodiversity Exploration, Species Science and Documentation, Taxonomy/Systematics of arthropod Biodiversity; Biodiversity Inventory, Assessment and Impact Analysis; Biodiversity and Sustainability Education; Forensic Entomology for Scene Investigation and PMI Analysis; Evolution of Intraspecific Variations; Coevolution of Animal Parasite and Vertebrate Host interactions; Transboundary Nature Renewal for Biodiversity Conservation and Peace.
Selected Recognitions and Honors:
L. O. Howard Distinguished Achievement Award, Entomological Society of America, Eastern Branch (1988)
Fulbright-Hays Lecturer/Researcher Award (1975-76)
Fulbright Senior Scholar Award (1993-1994)
Gastprofessor, Universitat Heidleberg, Germany (1976)
Certification, Diplomate of the American Board of Forensic Entomology (1997).
Korean Academy of Science and Technology, Korea: Elected to Permanent Member (1996), Life Member/Fellow (1997), Senior Fellow (2004).   
Hodson Graduate Alumni Award (2003), Department of Entomology, University of Minnesota
The International Directory of Distinguished Leadership (1993-present)
Who's Who in the 21st Century (2003)
Asian Admirable Achievers, Vol. I (p. 254) Rifacimento International (2007)
ABI International People of Accomplished Leaders & Lifetime Achievement Award (2007-2008)
American Academy of Forensic Sciences, Pathology/Biology Section Award for Lifetime Achievement in Forensic Life Sciences (2014)
 New Taxa Named After Ke Chung Kim                   
Franciscola (Cacamenopon) kimi Price, 1967.  Pacific Insects 9(3):516-517, Figs. 5, 6, 12, 13.
Linognathus kimi Merwe, 1968.  Novos Taxa Entomologicos (Suppl. Revista de Entomologia de Mozambique) 55:3-4, Figs. 1-3.
Kimosina Rohacek, 1983.  A monograph and re-classification of the previous genus Limosina Macquart (Diptera, Sphaeroceridae) of Europe.  Beitr. Ent. Berlin  33:3-195.
Relevant Publications
Kim, K.C. (ed.). 1985. Coevolution of Parasitic Arthropods and Mammals. New York: John Wiley and Sons, Inc. xiv+ 800 pp.
Kim, K. C. and H.-Y. Han. 1990. The systematics of Lotobia Lioy (Sphaeroceridae, Diptera). J. Afr. Zool. 104:385-434.
Choe, J. C. and K. C. Kim. 1991. Microhabitat selection and adaptation of feather mites (Acari: Analgoidea) on murres and kittiwakes. Can. J. Zool. 69:817-821.
Kim, K.C. and B.A. McPheron (eds.). 1993. Evolution of Insect Pests. New York: John Wiley and Sons, Inc. xii+ 479 pp.
Han, Y. and K.C. Kim. 1996. Descriptions of two new Lotobia species with re-analysis of intragenemic relationships and discussion of the systematic status of Lotobia Lioy within the subfamily Sphaerocerinae (Diptera: Sphaeroceridae). Korean J. Syst. Zool. 12:33-43 .
Kim, K.C. 1993. Biodiversity, Conservation, and Inventory: Why Insects Matter. Biodiversity and Conservation 2:191-214.
Kim, K. C. and R. D. Weaver (eds.). 1994. Biodiversity and Landscapes: A Paradox of Humanity. New York, Cambridge Univ Press, New York, NY. xii+ 431 pp.
Thorne, S.G., K.C. Kim, K.C. Steiner, and B.J. McGuinness. 1995. A Heritage for the 21st Century: Conserving Pennsylvania's Native Biological Diversity. Harrisburg: PA Fish and Boat Commission. x+ 60 pp.
Kim, K.C. 1997. Preserving Biodiversity in Korea's Demilitarized Zone. Science 278: 242-243.
Kim, K.C., L.B. Byrne. 2006. Biodiversity loss and the taxonomic bottleneck: emerging biodiversity science. Ecol. Res. 21:794-810. (pdf)