Sarah's dream is becoming reality!
Posted: July 5, 2015
Undergraduate Sarah McTish describes her research path to the Tooker lab.
When I was 8-years-old, I attended the Great Insect Fair at Penn State. I had always had an interest in insects, but it was at that fair that I learned that a person could go to school to become an entomologist. It was at that event that I decided that I was going to become at entomologist someday.
During that same summer, I discovered a mayfly nymph for the first time in the swamp on my neighbor's property. After seeing this mayfly swimming around the creek, I ran back to the house and excitedly told my parents that I found a tiny fish in the stream! My dad was skeptical and had me show him what I had found.  We went back to the creek together and collected a specimen to identify. He then showed me that it was not a fish, but an aquatic insect. This fascinated me, so my dad helped me print out an aquatic insect guide and bind it into a book. With this book, I started to spend even more time in the creek exploring; so for my third grade science fair project, I conducted an experiment on how the insects present in a stream can indicate the quality of the water in the stream.
An inspirational mayfly nymph. Image source
Now, I am a student at Penn State working towards a minor in entomology and achieving my dreams.  This summer, I am working on a project in the Tooker Lab funded by an Undergraduate Research Grant from the College of Agricultural Sciences as well as a seed grant from Penn State Institutes in Energy and the Environment. I am looking at the relationship between insecticides and invertebrate populations in vernal pools. Between Penn State's Living Filter and the Scotia Barrens, I have eight vernal pools I am studying. So far, I collected insect samples and water samples from each of the pools once, and now, I am working on the second sampling of the summer.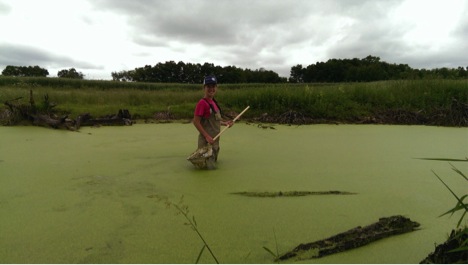 Sarah looking for invertebrates at Penn State's the Living Filter
A mayfly nymph started my dream of becoming an entomologist and now, a mayfly nymph is allowing me to achieve this dream.
-Sarah McTish