Centre County Pollinator Garden Network
Several public pollinator gardens have been developed in recent years across Centre County. These gardens display the breathtaking diversity of pollinators and pollinator-friendly plants and serve as examples for homeowners, businesses, and farmers interested in developing pollinator-friendly gardens and habitat on their properties.
Information on pollinator friendly gardens
PA Pollinator Garden Certification program
Pollinator Garden at the Arboretum at Penn State
The Arboretum at Penn State is located on a 35 acre tract adjacent to the Penn State University Park campus. The current Arboretum contains over 17,000 individual plants representing 700 different species, and is expanding yearly. The Pollinator Garden at the Arboretum features a large variety of native plants that Penn State Center for Pollinator Research members have found to be especially attractive and beneficial for a range of pollinator species. Plans are underway to considerably expand the garden to include examples of ornamental and native plants that are attractive to bees, butterflies, pollinating flies, and hummingbirds, habitat and observation hives for solitary bees, bumble bees, and native bees, and several other exhibits which will highlight ongoing research projects in the Center for Pollinator Research.
East Park Avenue, State College, PA 16803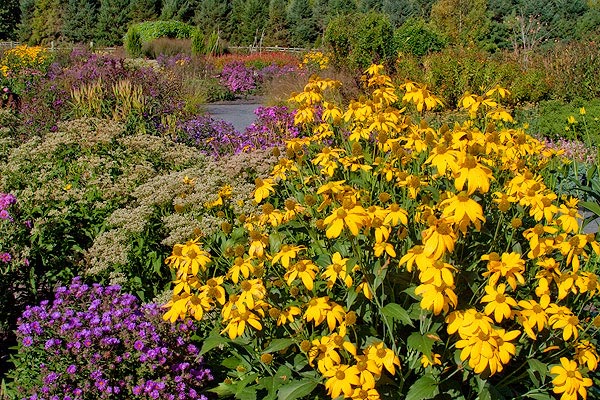 Photograph by Nick Sloff
The Snetsinger Butterfly Garden at Tom Tudek Memorial Park
The Penn State Extension Master Gardeners of Centre County, under the guidance of Dr. "Butterfly Bob" Snetsinger, emeritus professor in the Department of Entomology, at Penn State, developed and maintain the 3 acre Snetsinger Butterfly Garden as a resource designed to educate the public about the importance of butterfly conservation and ecosystems. The garden contains ~90 species of native plants that support over 30 species of butterflies, as well as many other pollinators. Several programs are held at the Park, including the annual "Wings in the Park" celebration.
Satellite school and community gardens
400 Herman Drive (Off Park Crest Lane), State College 16803

Shaver's Creek Environmental Center
Shaver's Creek Environmental Center is a unit within Penn State Outreach, with ties to many Academic Colleges at Penn State. Shaver's Creek is a public facility that includes a nature center, trails, and exhibits of live birds of prey and reptiles. The Center supports numerous Penn State educational outreach efforts and sponsors community festivals throughout the year including the Central Pennsylvania Native Plant Festival which is held the first Saturday in May each year.
Shaver's Creek also maintains a native plant pollinator garden and conducts public programs and workshops about native plant conservation and gardening each year via this garden.
3400 Discovery Road, Petersburg, PA 16669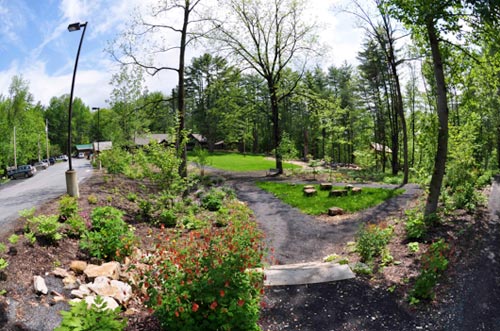 Photograph by Eric Burkhart
The Pollinator Garden at the Russell E. Larson Agricultural Research Center

This pollinator garden is a joint effort between Penn State College of Agricultural Science and Penn State Extension Master Gardeners. It was originally funded by a grant to Penn State by the Haagen-Dazs Loves Honeybees foundation. During the Ag Progress Days (held every August); guides provide tours of the garden and tips on pollinator-friendly gardening practices.
2710 W Pine Grove Rd, Pennsylvania Furnace, PA 16865

Muddy Paws Marsh
Muddy Paws Marsh is a restored wetland and educational center located in Spring Mills, PA. Muddy Paws Marsh provides an opportunity for students to learn about aquatic insects, tree varieties and the importance of wetlands. It is home to a Master Gardener pollinator garden as well as four varieties of frogs, nesting birds and migratory birds. The annual Frog Festival is held at Muddy Paws Marsh every spring. The 25 acre site is owned by Penn State Extension Master Gardener Mary Kay Williams, and her husband Greg.
4158 Penns Valley Road, Spring Mills, PA 16875